Toei Animation Headlines New Series For MIPTV 2018
From The Hilarious Butt Detective To The Return Of Ge Ge Ge no Kitaro, Toei Animation Introduces New And Imaginative Animated Content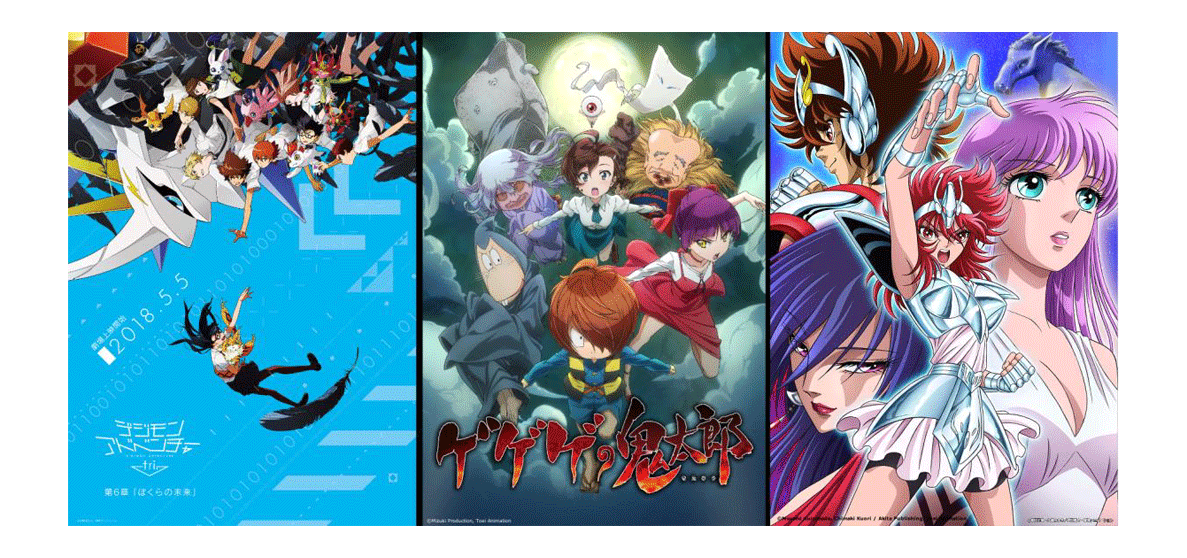 PARIS (March 30th, 2018) After a landmark year internationally, Toei Animation joins MIPTV 2018 with new properties to showcase and major updates for its ongoing initiatives.
Toei Animation continues to add more broadcast partners for its flagship global hit, Dragon Ball Super, with new deals arranged across EMEA. Confirmed broadcasters for 2018 include Cartoon Network (Italy); Toonami (Africa); LNK and TV1 (Lithuania); Viasat 6 (Hungary); AXN (Moldavia); and AXN Black (Romania). These broadcasters join several other networks through the region, which currently include Toonami and TFX (France); Italia 1, Italia 2 (Italy); Boing (Italy & Spain); Sic, Sic K, Sic Radical (Portugal); and Prosieben Maxx (Germany). At the same time, Toei Animation announced an animated feature film serving as a sequel to the series after its finale following episode 131. The film is in production with its Japanese release planned for December 14th.
Making up Toei Animation's MIPTV catalog are four new series and a feature film that highlight the company's mastery of multiple genres.
Based off the popular children's book series, Butt Detective is an outrageous comedy aimed at kids ages 3 to 12. The series follows the adventures of Butt Detective, a gentleman detective who solves hilarious mysteries alongside his cast of colorful allies. First published in 2012, the unique book series caught Japan by surprise. Volume 5 of the book series had top sales for all categories in August 2017, while Volumes 1 to 6 have sold over 2 million copies. The book is also available in classrooms across Japan. The brand is quickly gaining a following outside Japan, and fans of all ages are eagerly awaiting Toei Animation's adaptation. The broadcast is planned will start from May 3rd on NHK. Butt Detective is already on its way to becoming an international sensation.
Bakutsuri Bar Hunter is an exciting new series that takes place in an intriguing world where the barcodes marking our personal belongings harbor secret life forms known as bar souls.
The anime favorite Ge Ge Ge no Kitaro returns with an all-new series set to debut on April 1 in Japan. First introduced in 1968, the classic Ge Ge Ge no Kitaro is told across 439 episodes over five massive sagas and eight movies. The series tells the story of Kitaro, a supernatural creature (yokai) with a strong sense of justice. People across town send him letters crying out for help, to which Kitaro solves by fighting against strange spirits.
The global hit, Saint Seiya, also returns with a brand-new series. Saint Seiya: Saintia Sho follows 2015's Saint Seiya Soul of Gold, which surprised fans with its roller-coaster cosmic adventure. Saintia Sho is notable in that it follows a cast of female heroines. Altogether, the Saint Seiya franchise comprises 255 x 30' episodes + 6 movies.
The conclusion of the Digimon Tri. saga rounds out Toei Animation's MIPTV catalog, with Digimon Tri. 6, the sixth film in its series of animated features. Bringing the cast back for a final adventure, this long-awaited movie takes place several years after Taichi Yagami last journey. He is now having a peaceful life in high school until Digimons suddenly appear in the Real World and keep on arbitrarily attacking! The film is confirmed for a May 5th release in Japan.
"From our ongoing success with Dragon Ball Super to the worldwide embrace of our many brands, we're excited to join the international community at MIPTV 2018," said Ryuji Kochi, President of Toei Animation, Europe. "2018 has been a milestone year, and we look forward to creating new partnerships as our team continues producing outstanding original content."
Toei Animation is presenting at MIPTV 2018 at booth R7.L18
About Toei Animation Europe
With headquarters in Tokyo and sales offices in Los Angeles, Hong Kong and Paris, Toei Animation ranks amongst the world's most prolific animation production studios. Toei Animation's operations include animation development and production, and worldwide marketing and program licensing. Founded in 2004, Toei Animation Europe is in charge of the distribution and exploitation of Toei Animation's animated series in Europe, Africa and the Middle East. Among its most famous series: Captain Harlock, Dragon Ball, Saint Seiya, Sailor Moon, and One Piece.
www.toei-animation.com
# # #
MEDIA CONTACTS:                                                               TOEI ANIMATION EUROPE SAS :
SSA Public Relations
David Syatt                                                                                                                               Corentin Besse
dsyatt@ssapr.com                                                                                       corentin@toei-animation.com
+1 818 907-0500                                                                                                                  +33 1 80 18 03 22