COOKIES AND PERSONAL DATA
Cookies are being used on our edited by the company TOEI ANIMATION EUROPE, a French SAS (simplified joint stock company), with a capital of €500,000, registered in the Trade & Company Register of Paris under number 480 187 764, having its registered office at 5 rue Greffulhe, 75008 Paris, France.
Cookies are small files that are placed on your device (computer, smartphone or tablet) when you are browsing the Internet. They can then be read by cookie senders to collect information stored on your device.
The data collected vary according to the purposes pursued during the use of these cookies. They may concern your device (for example, operating systems, software versions used, types of equipment, etc.) or your activity on this equipment (browsing history, actions carried out on the Internet, etc.).
1. Why are cookies used on TOEI ANIMATION EUROPE's website and what type of data are collected?
We use cookies (if you have accepted them) to measure the audience and the origin of visitors to our website.
For this purpose, personal data are collected using these cookies, and are anonymized. This does not include your first and last names or your contact details. This includes technical information, navigational information or the geographical area from which you are visiting our website. In particular, a unique identifier generated at random will be assigned to you by the cookies we use to distinguish you from another visitor and the IP address of your equipment will also be collected for getting the information listed above (https://support.google.com/analytics/answer/9019185?hl=fr).
The processing of this information is carried out to meet our legitimate interests within the meaning of the regulation on the protection of personal data. These legitimate interests are as follows: to enable us to study and improve the content and structure of our website and to enable us to study and improve its referencing on the networks. For this purpose, we need to know in particular which pages are consulted, how people navigate on our website, by which keywords they arrive on our website.
Your first and last name can be collected with your consent on our "Contact" page. By clicking on "Subscribe to our newsletter", you accept to provide us with your first and last name information. These legitimate interests enable us to check if you are a person related to our business activity, and legitimate to receive our monthly corporate newsletter, made for B2B purposes only. For further information, please refer to our personal data policy page: https://www.toei-animation.com/privacy-policy/.
2. Which cookies are used, who manages them and who processes the information they collect?
The cookies used are those of the Google's Analytics and AMP solutions and are described in more detail in the table below.
The information collected using these tools is processed by Google on behalf of TOEI ANIMATION EUROPE. It is also processed by the web agencies which manage our website : DATA SOLUTIONS and OVH.
3. Where are processed the personal data collected via these cookies?

They are processed on the territory of the European Economic Area (EEA), but may be transferred to the United States by Google under the agreement between the United States and the European Commission, known as the Privacy Shield. Google has certified that it adheres to the Privacy Shield Principles. In case of transfer of data in other countries outside the EEA, Google also comply with the Swiss-US Privacy Shield framework or uses the model contract clauses approved by the European Commission for transfers of data outside the EEA.
4. Are these cookies and this collection of data mandatory?
This collection of personal data through the cookies used by TOEI ANIMATION EUROPE is not mandatory. It will therefore not be carried out if you have not accept to the use of cookies or if you have later objected to them using the means described below.
5. What are my options regarding the use of these cookies?
The use of cookies on the TOEI ANIMATION EUROPE's website is subject to your prior consent.
This prior consent is collected the first time you log on our website through the display of an information and cookie management banner.
You may then withdraw this consent at any time for all or part of the optional cookies and oppose their use by unticking the cookie selection in the cookie management banner.
You can also decide to accept the use of all or part of these cookies initially refused by the same means.
In addition, to oppose more generally to the use of Google Analytics audience measurement cookies on our website and other websites, you can also use the tool offered by Google accessible here: https://tools.google.com/dlpage/gaoptout?hl=en.
6. What are the consequences in case of refusal or later opposition to the use of cookies used on our website?
Refusal or opposition to the use of cookies on our website will not entail any consequences for you. Your browsing on our website will not be slowed or blocked.
7. What are my other rights?
If the conditions set by the law are met, you may request access to your personal data, their rectification or erasure. You also have the right to object at any time to certain of our processing operations and the right to nominate a third party to whom the data concerning you will be provided after your death.
You may exercise your rights by writing to us at the following e-mail address: marketing-taeu@toei-anim.co.jp or the following postal address: 5 rue Greffulhe, 75008 Paris, France.
You can contact us at the above-mentioned e-mail address or postal address for questions concerning the cookies policy, and the processing of your data.
Finally, you are also entitled to submit a complaint to the competent data protection authority.
However, please note that we may not be able to identify all of the information about you as we do not collect identifiable information through the use of cookies. In this case, regulations allow us to respond negatively to your request if you cannot provide us with the cookie identifier corresponding to your device.
8. What is the storage period of the information collected via these cookies?
The information collected with the help of these cookies are kept between 30 seconds and 12 months, depending the type of cookie (please refer to the chart paragraph 10.)
This period of time is not the same as the length of time that cookies are installed on your browser. The duration of installation of cookies depends on each cookie is and is indicated in the summary table in point 10 below.
9. How long will the cookies be installed?
The lifetime of each cookie is specified in the summary table below.
The retention period for information collected using these cookies may be shorter or longer. This duration is specified in point 8 above.
10. Summary of cookies used on the TOEI ANIMATION EUROPE's website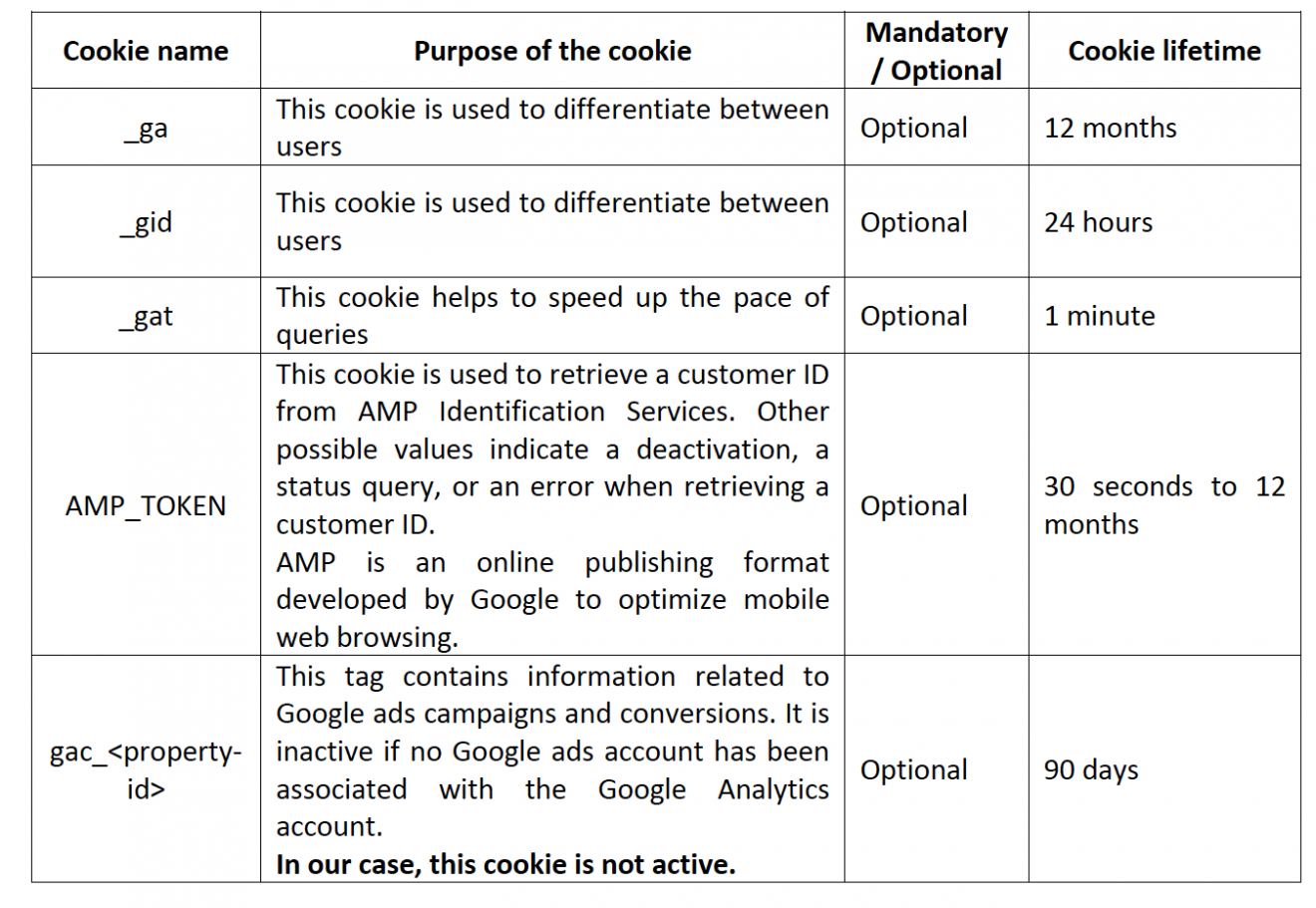 For more information on cookies and online tracking devices in general, on how to oppose their use and on your rights, please check the website of the French data protection authority (CNIL), and in particular the section entitled "Tag: Cookies and tracking devices".