Animax to show Sailor Moon Crystal as an exclusive German
TV Premiere in January 2016
The reboot of the cult anime series Sailor Moon
The Legendary Moon Soldier returns after more than 20 years
A true to original adaptation of the manga series by Naoko Takeuchi
Animax will show the German dubbed version at 7:25pm every Sunday from 31st January onwards – afterwards the show will be available on demand at Vodafone Cable Germany's Select Video, Unitymedia Video Store and Magine TV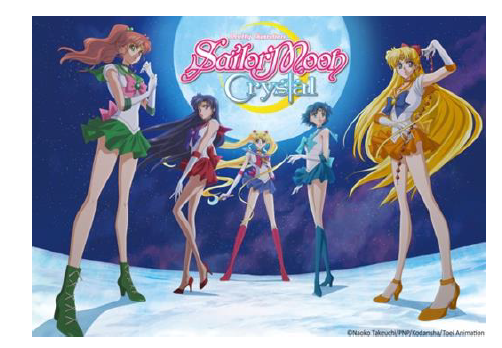 Munich, Germany, 16.11.15 – The legendary moon soldier Sailor Moon is returning! Animax, the anime channel run by Sony Pictures Television Networks, will present Sailor Moon Crystal, the Sailor Moon remake long-awaited by anime fans, in January 2016 as a German TV premiere in German Dub.
A true to original adaptation of the award-winning manga series by Naoko Takeuchi
The current series of the TV remake, which contains 26 episodes so far, stands out due to its use of modern animation technology and the fact that it remains true to the popular and award-winning original manga series Pretty Guardian Sailor Moon by Naoko Takeuchi in terms of both its content and appearance. The new animations bring the artist's elegant and playful style of drawing to life and make its characteristic decorative Art Nouveau elements shine in new splendour. Like the cult series Sailor Moon, Sailor Moon Crystal tells the magical story of the clumsy and whiny schoolgirl Usagi Tsukino whose unspectacular life is completely turned upside down when she befriends Luna, a talking cat. Luna gives Usagi magical powers and she transforms into the moon soldier Sailor Moon. Faced with the ultimate task of protecting mankind, she sets off on her journey to search for courageous allies, the Magic Silver Crystal and the mysterious Moon Princess.

The reboot of the Sailor Moon cult series
Since the 1990s, the Sailor Moon phenomenon has been popular among young girls and many other viewers all over the world and brings together a dedicated international fan community. The manga has been translated into many languages and the series has been broadcast in more than 50 different countries. The Sailor Moon media universe also contains many other highlights, including several big-screen films, games and musicals.

Copyright 'Sailor Moon Crystal': ©Naoko Takeuchi/PNP/Kodansha/Toei Animation