Animax to exclusively show the brand-new anime hit
Digimon Adventure tri. – Chapter 1: Reunion just 24 hours
after the Japanese cinema premiere at 8:15pm on 22nd
November 2015
The cult anime series Digimon is celebrating its 15th anniversary with the hotly anticipated film sequel Digimon Adventure tri. – Chapter 1: Reunion
The sequel was produced by the established TV series studio Toei Animation (responsible for productions such as Sailor Moon and Dragon Ball)
Animax will show the first film of the sequel series exclusively directly after the Japanese cinema premiere in original language with German subtitles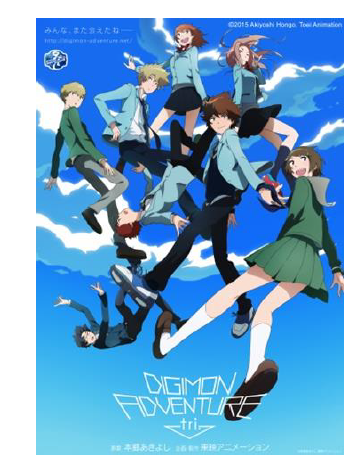 Munich, Germany, 18.11.2015 – Attention all Digimon fans!
The virtual monsters and their digital knights are returning to your screens with the brand-new film sequel Digimon Adventure tri. – Chapter 1: Reunion! Animax, the anime channel run by Sony Pictures Television Networks, will present the first, hotly anticipated 110-minute-long film of the cinema sequels to the popular TV series in its original
Japanese language with German subtitles at 8:15pm on 22nd November 2015. German Animax viewers can therefore yet again delve into the digital world of Digimon just 24 hours after the Japanese cinema premiere. The series' dedicated fan community will also be pleased to know that Digimon Adventure tri. will not only feature new voices for Taichi and his friends, but also the established voices that they know and love from the Digimon series.
The Digital World faces new danger
The film Digimon Adventure tri. was announced in Japan in August 2014 on the occasion of the 15th anniversary of the TV series Digimon, which inspired a multitude of TV and film sequels and spin-offs and also built up a dedicated fan community here in Germany thanks to the German broadcast of the television series. The series tells the story of the teenager Taichi Yagami and six other chosen children who are set the task of saving a mysterious digital world from evil powers. On their mission, each of the children is paired up with one of the residents of this world, who are known as Digimon: virtual monsters that use their special abilities to support their human partners. The film sequel Digimon Adventure tri., which was filmed by the experienced anime director Keitaro Motonaga (who directed films such as Getbackers) for the established TV series studio Toei Animation (responsible for productions such as Sailor Moon and Dragon Ball), takes place six years after the events of the original series and tells a

completely new story. In the film, the high-school student Taichi and his friends, who are now 17, yet again pair up with their Digimons to confront a new danger facing the Digital World…
An internationally successful multimedia franchise
The anime series Digimon and the current film sequel Digimon Adventure tri. form part of the multimedia franchise of the same name with which the Japanese toy company Bandai wrote an unparalleled international success story after launching the franchise in the mid-1990s.
Alongside numerous anime series and films, the huge Digimon universe also features countless video games, mangas and collector card games that have been distributed in large numbers all over the world.

Copyright 'Digimon Adventure tri. – Chapter 1: Reunion': ©2015 Akiyoshi Hongo, Toei Animation