ONE PIECE
The fan favorite anime now streaming in Germany and Russia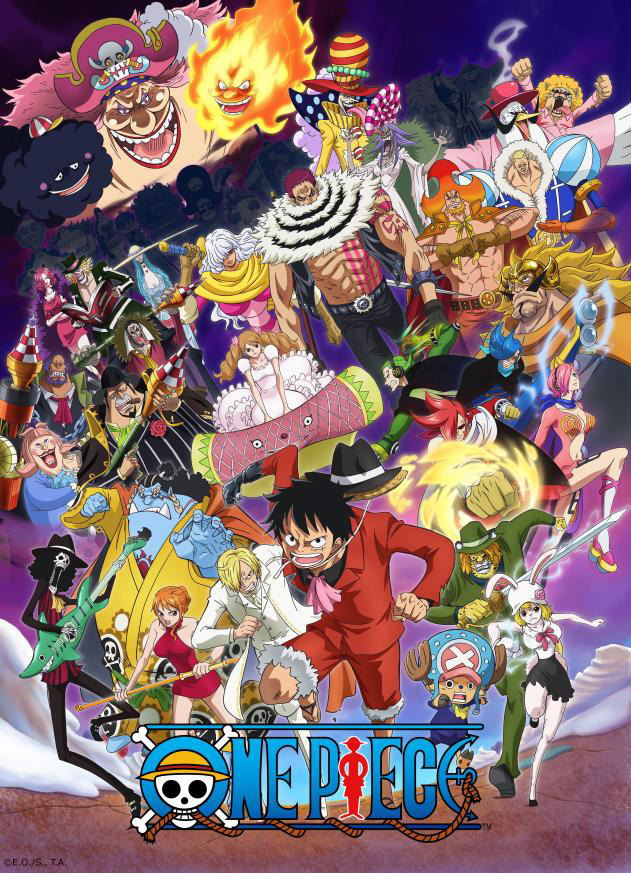 PARIS (11/06/2018) — Toei Animation's One Piece will debut in Germany following deals with SVoD broadcasters Anime on Demand and Wakanim. The deals come on the heel of significant development for One Piece in Germany, where the iconic series is already available on free TV ProSieben Maxx. The anime is additionally much-awaited in Russia where Wakanim will also broadcast the series.
For the first time in Germany and in Russia, One Piece episodes will be available right after the Japanese broadcast, since both platforms will simulcast the series on Mondays at 20:00 (German time). A dubbed version will be added on Tuesdays at 22:00 (Russian time) in Russia.
"Germany is one of the fastest growing markets for anime, and we're excited to stream One Piece to its two top-performing services while continuing our successful presence in Russia," said Ryuji Kochi, President of Toei Animation Europe. "These announcements are especially impactful considering that One Piece will celebrate its 20th anniversary in 2019 with the release of an all-new feature film. After twenty years, One Piece's story continues to evolve and inspire new generations of viewers."
"We are very proud to add One Piece to our extensive portfolio of anime classics, timeless favorites and current hits. One Piece is one of the greatest anime successes of all time and is a firm success in German Free TV and Home Entertainment. The huge German fanbase wishes for years to be able to follow the adventures of the Straw Hat Pirates as close as possible to the Japanese broadcast and we are overjoyed to finally be able to fulfill this wish." said Dr. Michael Wache, Head of New Media, AV Visionen GmbH & Project Manager Anime on Demand
"Wakanim is thrilled to partner with TOEI Animation to offer simulcast and simuldub (Russia) episodes of One Piece in German and Russian speaking regions! One Piece is a groundbreaking property, that would help us to offer the best Anime through our legal video on demand offer." said Olivier Cervantes, President of Wakanim SAS.
Synopsis : Luffy and his crew sail across the seas seeking for the legendary bounty called the « One Piece ». Their quest results in loads of unexpected adventures. Whoever seizes the treasure becomes king of the pirates – which is precisely Luffy's dream.
About Toei Animation Europe
With headquarters in Tokyo and sales offices in Los Angeles, Hong Kong, Shanghai and Paris, Toei Animation ranks amongst the world's most prolific animation production studios. Toei Animation's operations include animation development and production, and worldwide marketing and program licensing. Founded in 2004, Toei Animation Europe is in charge of the distribution and exploitation of Toei Animation's animated series in Europe, Africa and the Middle East. Among its most famous series: Captain Harlock, Dragon Ball, Saint Seiya, Sailor Moon, and One Piece.
About Anime on Demand
Anime on Demand (in short: AoD) is Germany's longest existing anime VoD platform. It provides its steadily growing number of subscribers with new releases from renowned German anime publishers such as KAZÉ Anime, Anime House, nipponart, AniMoon Publishing, peppermint anime and filmconfect anime. Since 2014, AoD offers several simulcasts per season and as of late also a selected program of simuldubs. Its portfolio comprises more than 3,000 anime episodes and movies as well as live action titles, most of which are offered simultaneously in German dubbed und subtitled versions as well as optimised HD quality.
About Wakanim
Wakanim is Europe's leading animation streaming and simulcast platform. With 10 years of experience and now operating in a dozen countries, Wakanim in collaboration with Aniplex brings the best of Japanese Animation to all fans across the continent. Be it with special collaboration efforts in Germany and thanks to our in-house simuldub studio, we strive to always push the limits of animation distribution. With multiple subscription plans and a VIP experience, everyone can enjoy our seasonal simulcasts on Wakanim.tv or our app on their favorite device.
# # #
MEDIA CONTACT TOEI ANIMATION:
Isabelle Favre : 01 75 00 15 52 – isabelle@toei-animation.com
Corentin Besse : 01 80 18 03 22 – corentin@toei-animation.com