The teaser and title logo of the new "DRAGON BALL" anime series "Dragon Ball DAIMA" was made public to the world at a panel in the New York Comic Con, one of the largest pop culture festivals in the world, which is currently being held in New York City, U.S.A. It has been decided that this series, which commemorates the 40th anniversary of "DRAGON BALL," will be released starting in the fall of 2024.
This title is a new anime series with completely new episodes written by the author of the original series, Akira Toriyama. The author is closely involved with the production of this title in aspects including the original work, story, character design and more. He also created designs of many vehicles, monsters, and background characters.
The announced title "Dragon Ball DAIMA" was thought up by Toriyama as "a strong name that is different from the ones before." People around the globe can enjoy the new and never-before-seen "DRAGON BALL" world full of adventures, battles, and mysteries!
★Comments from Akira Toriyama and Masako Nozawa(the voice of Son Goku) are here!
With this announcement, we have received enthusiastic comments from Akira Toriyama and Masako Nozawa, the voice actor for Son Goku.
<Comment from Akira Toriyama>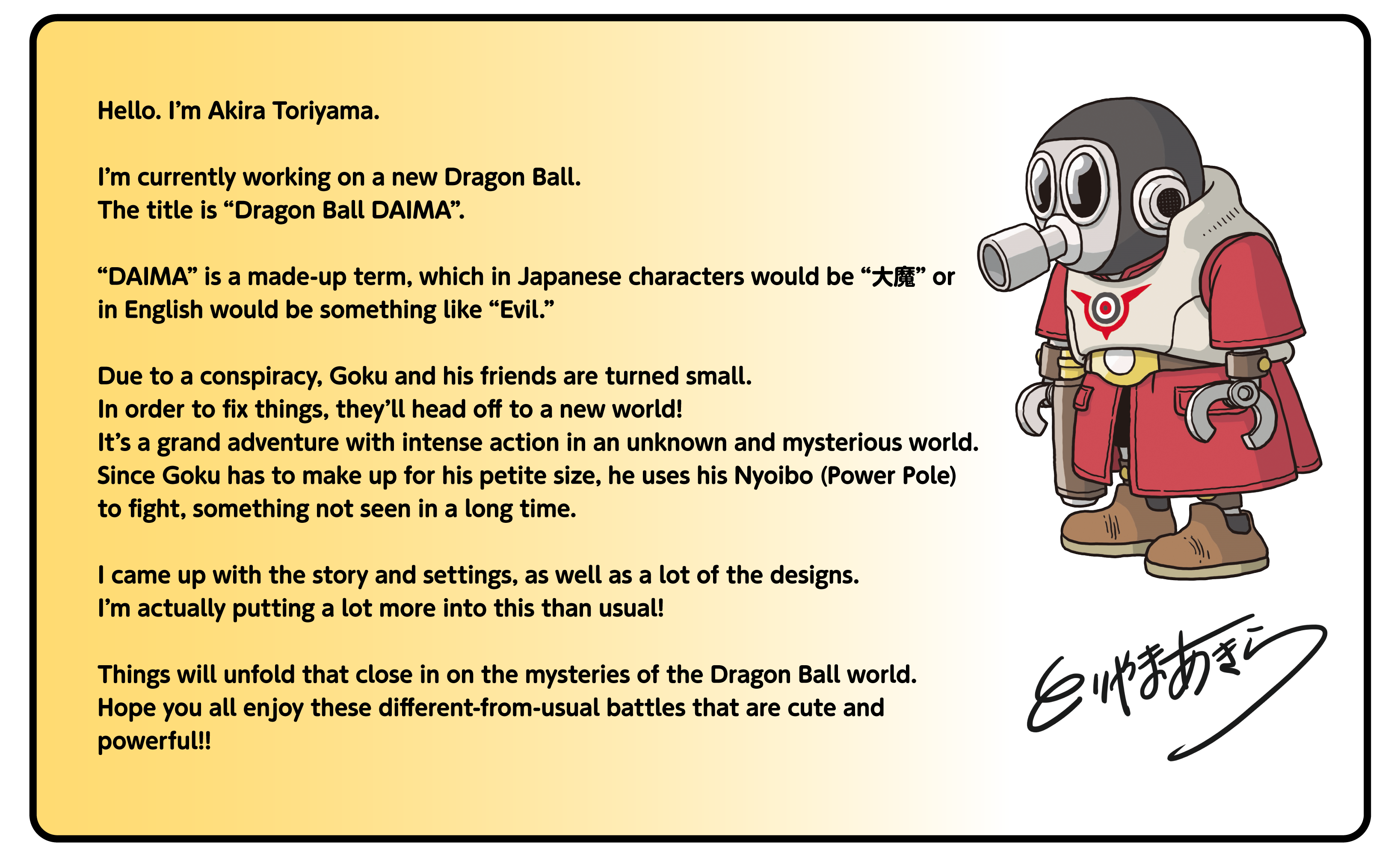 <Comment from the Voice of Son Goku, Masako Nozawa >
"Wasn't the video for the new series "Dragon Ball DAIMA" amazing? Goku was so adorable and wonderful! I wonder about the conspiracy behind Goku's new appearance. I'm very curious, but I'm told the details are still a secret! I'll be waiting for the new anime along with all of you! I hope you look forward to it too!"
★Title logo, new visuals for Son Goku, and shots of scenery are here!
The teaser of "Dragon Ball DAIMA" shows a mysterious new characters watching the fierce battle between Goku and Majin Buu. It also depicts a new world that has never been seen before, with new visuals for familiar faces like Goku, Vegeta, and Bulma. And it reveals the title logo and the information about its fall 2024 release.
Please stay tuned for more information and look forward to seeing this title in fall of 2024!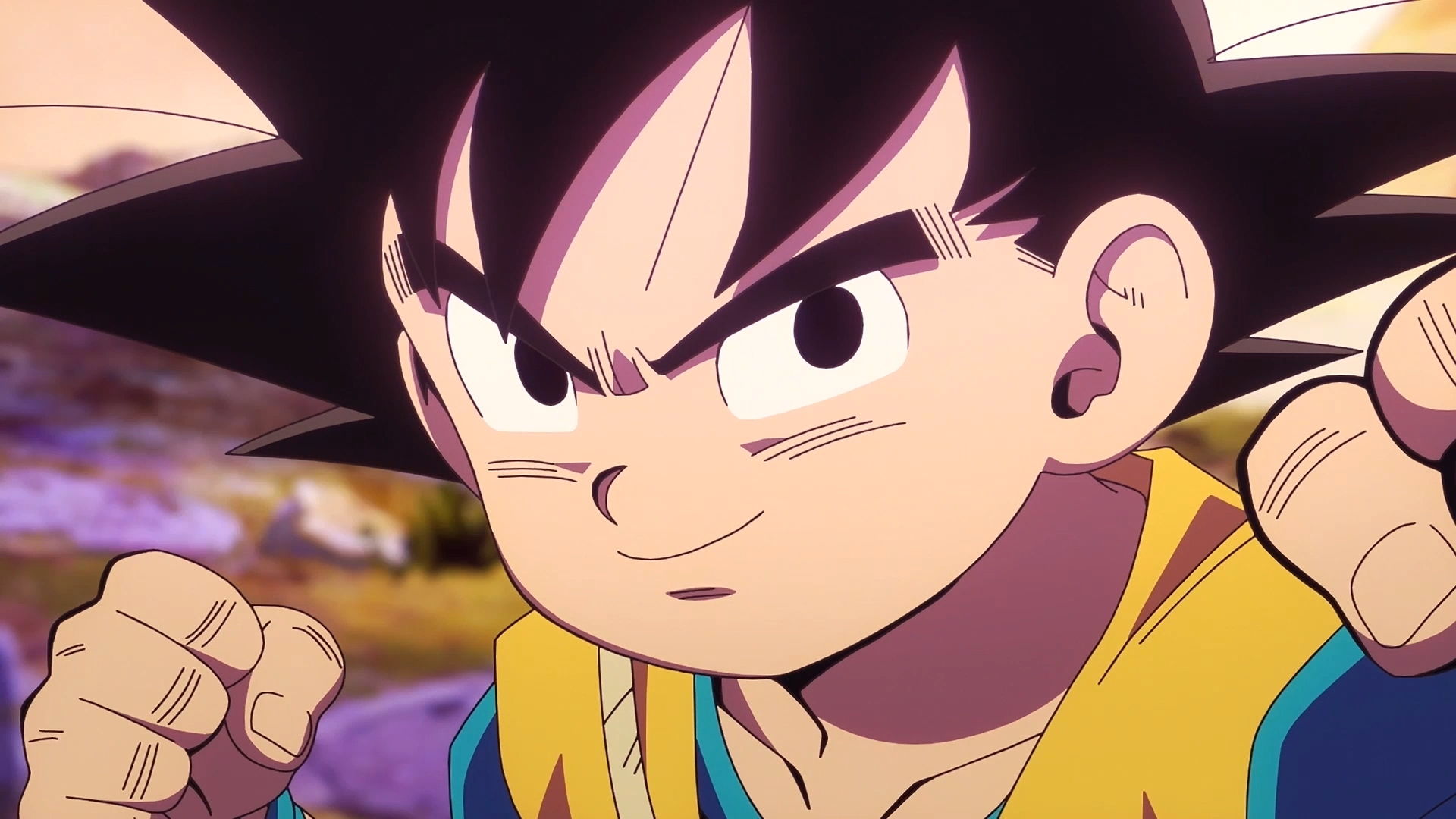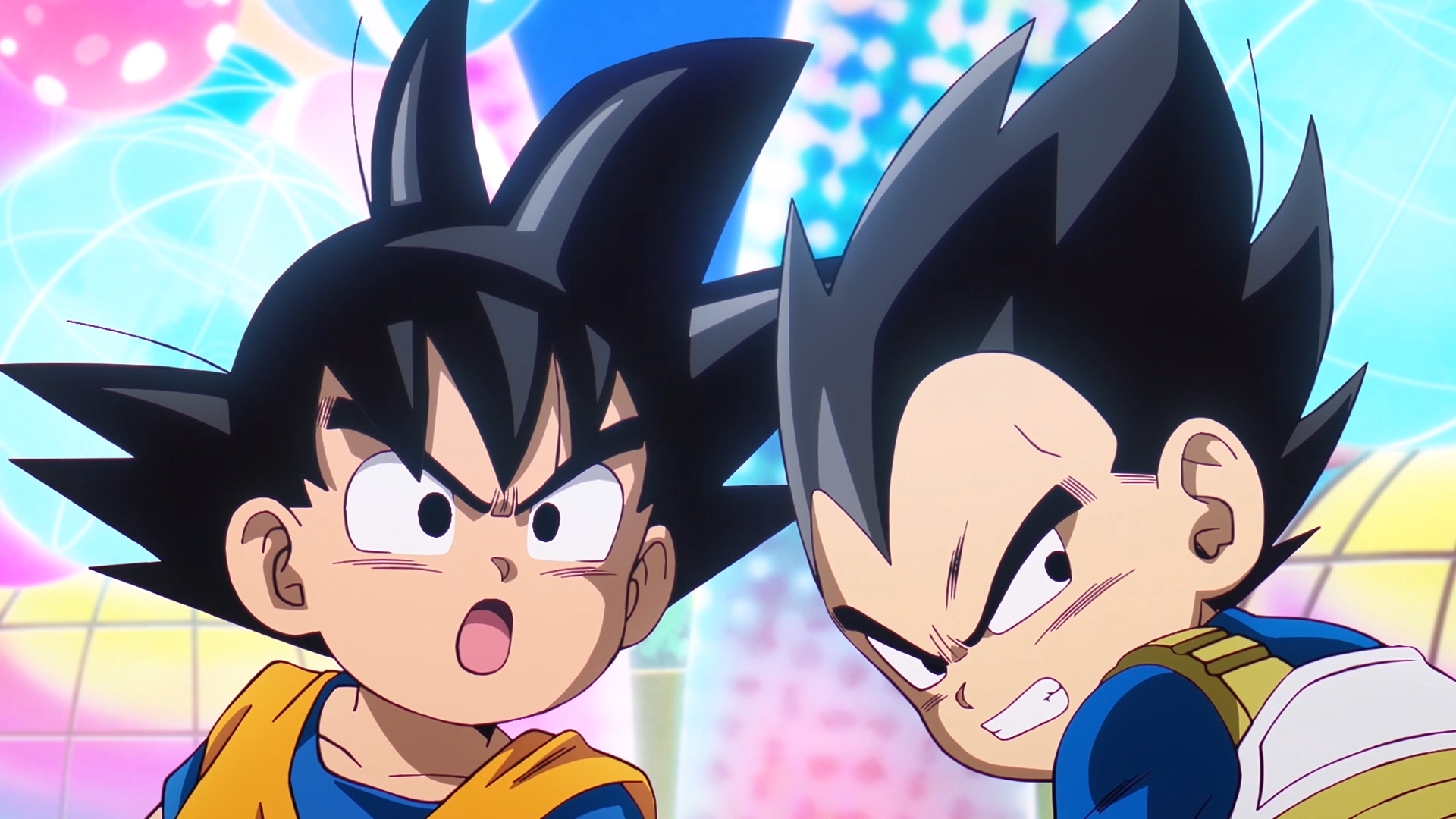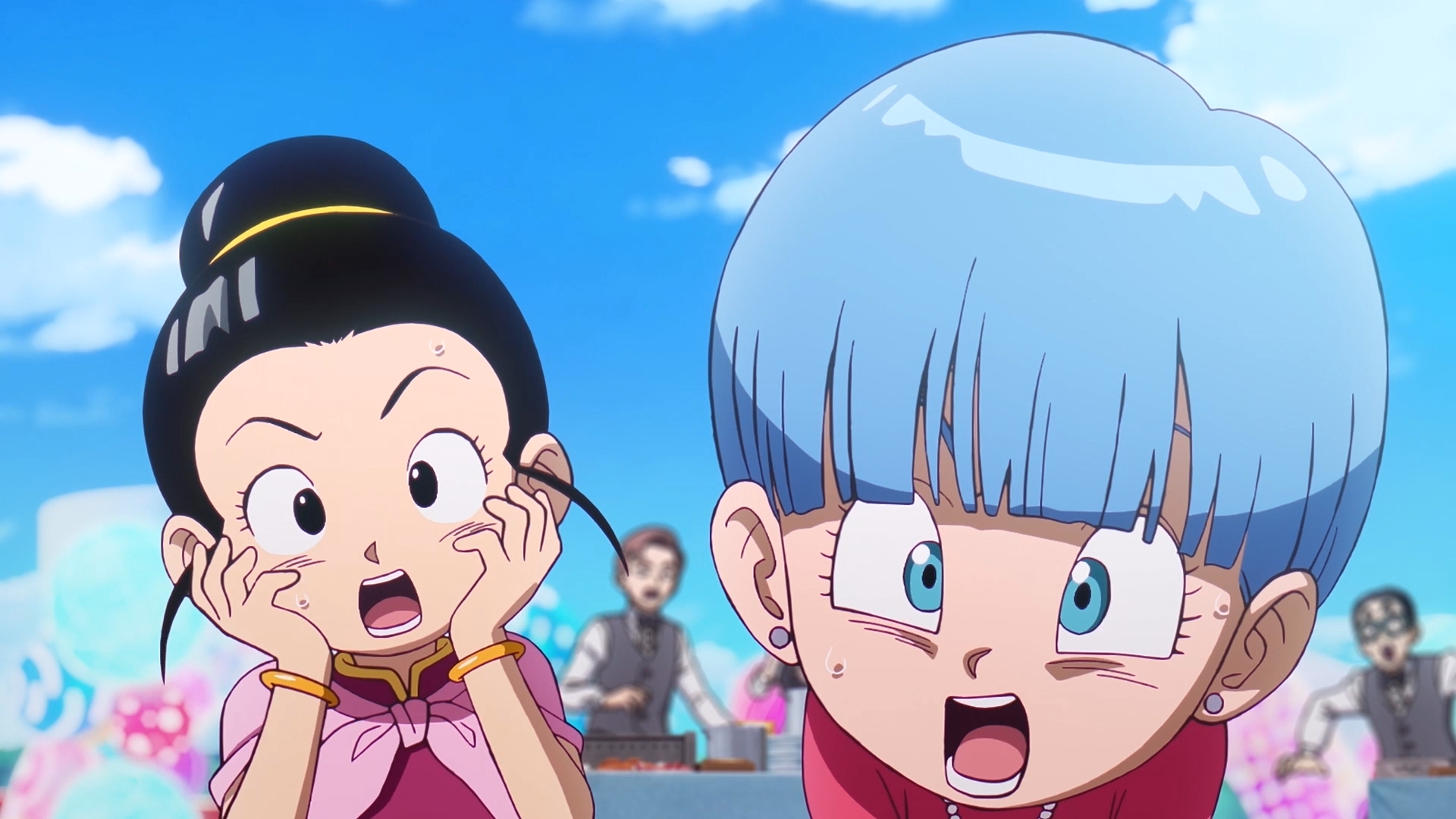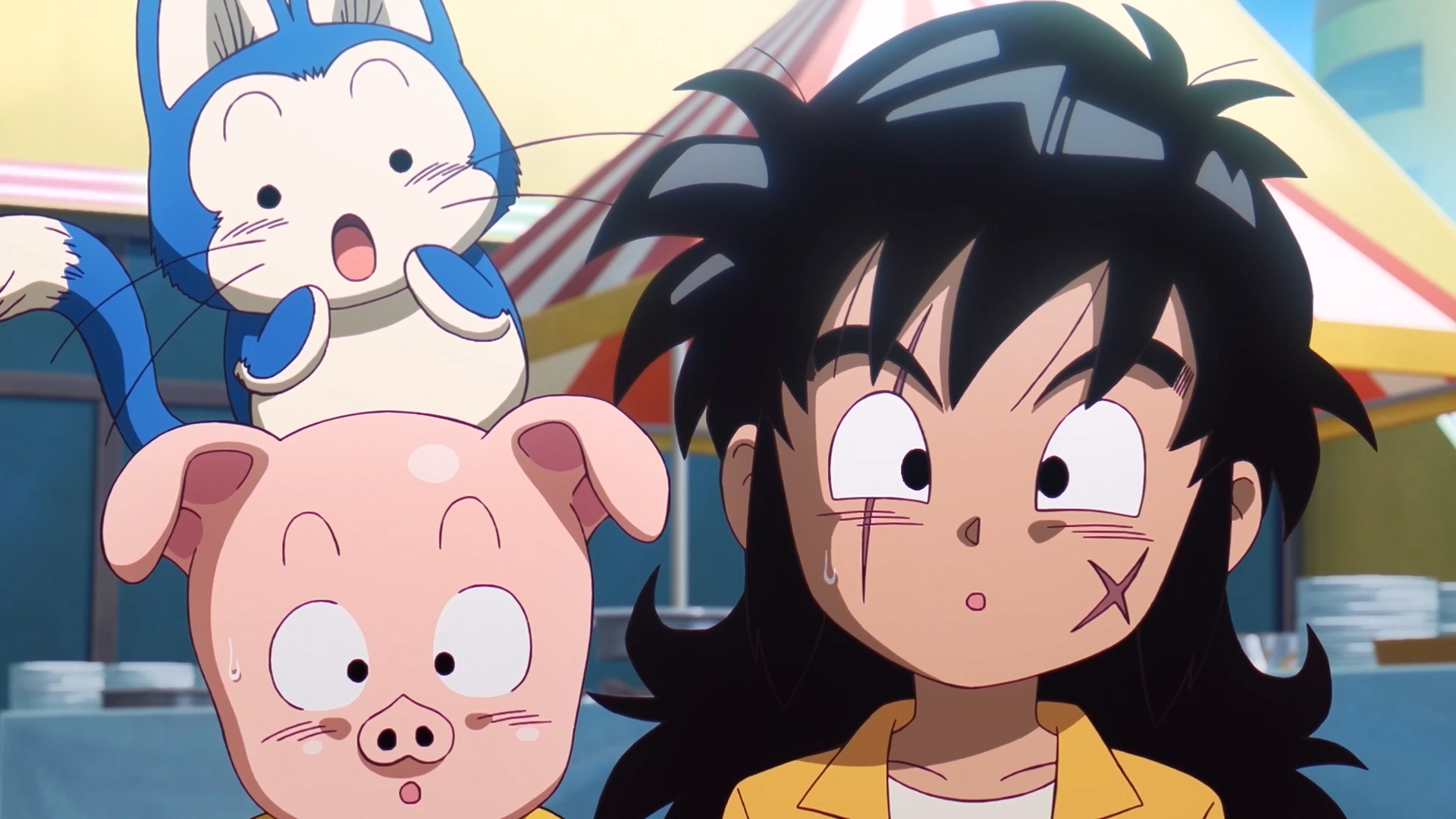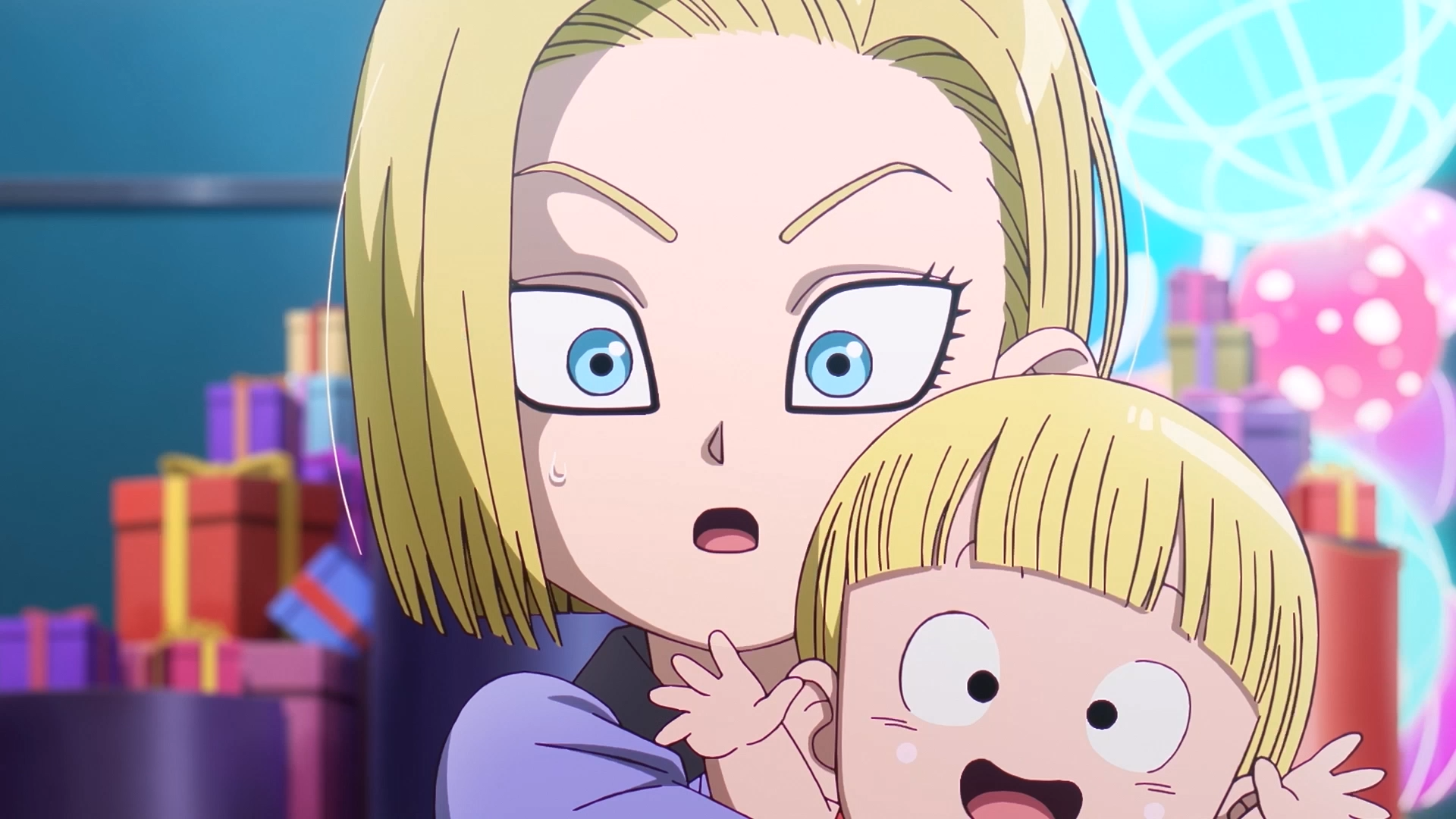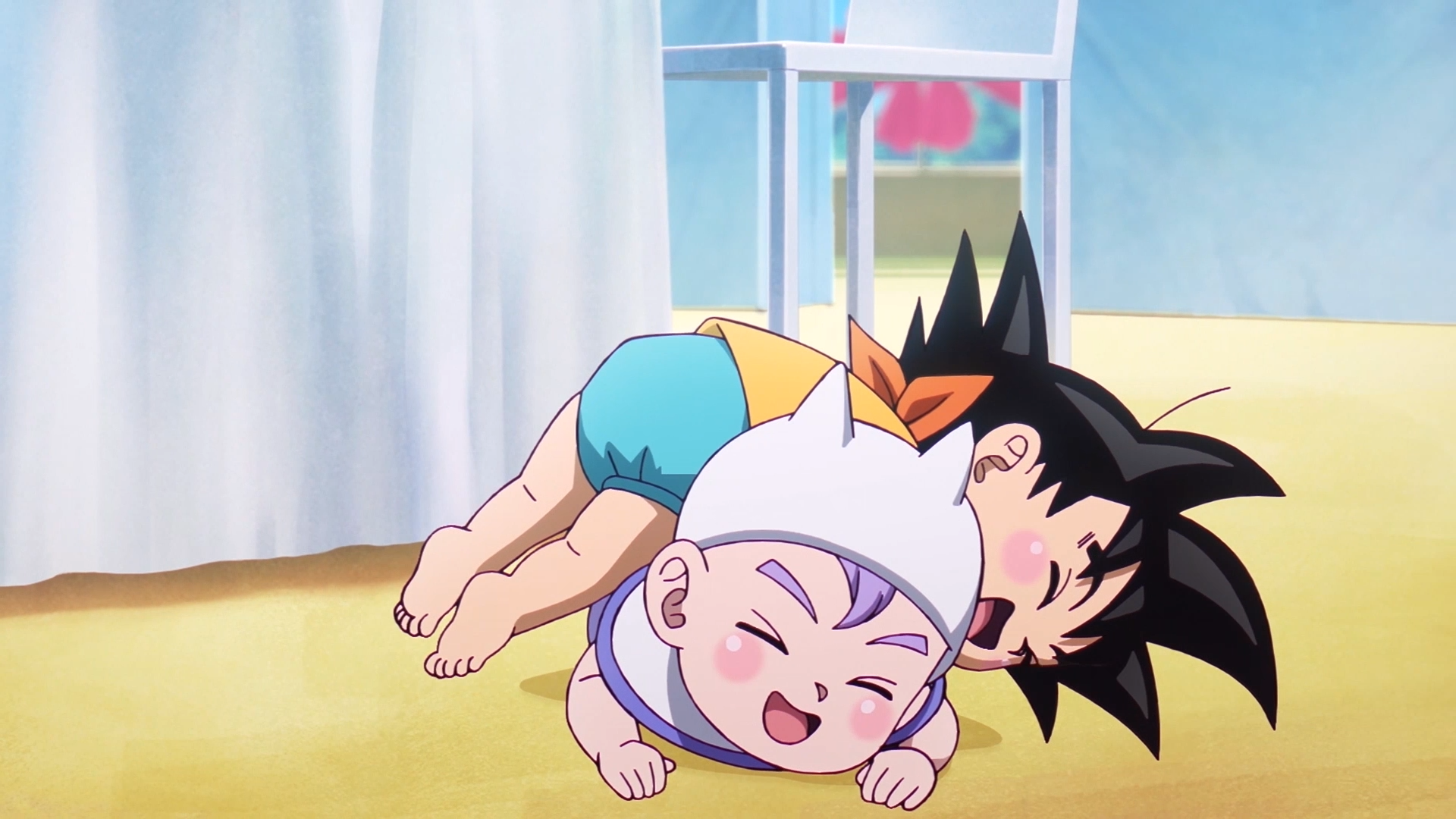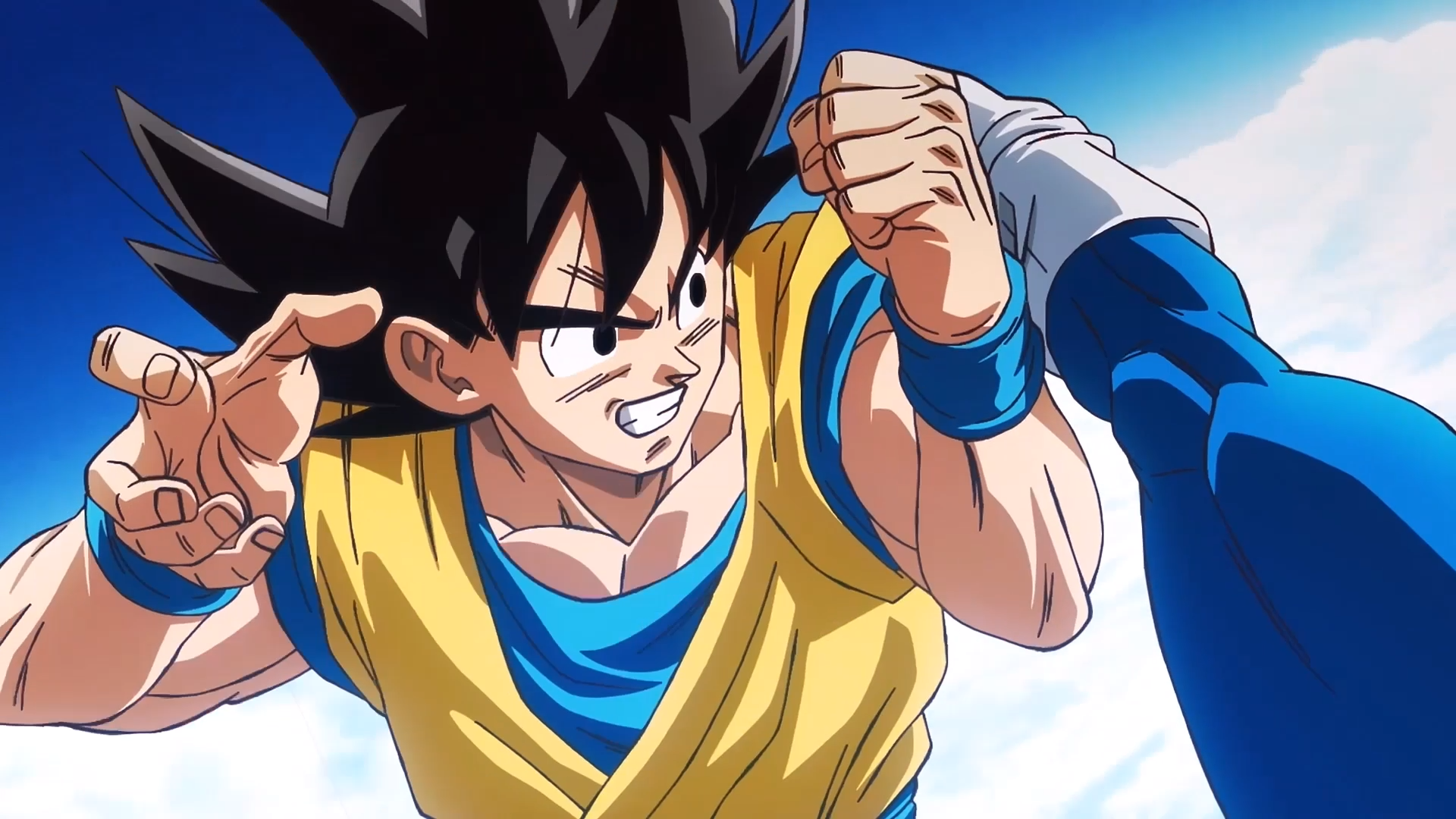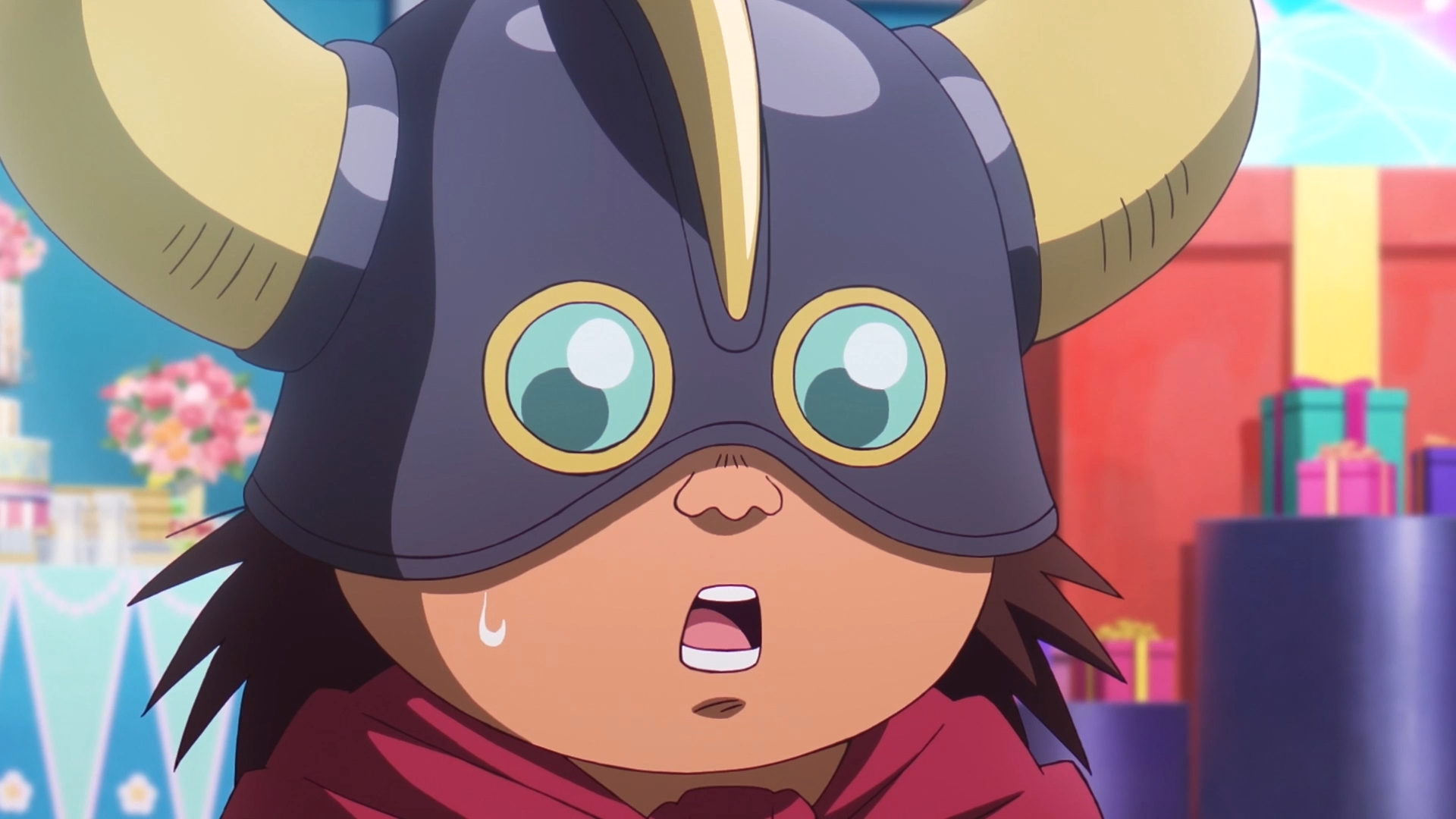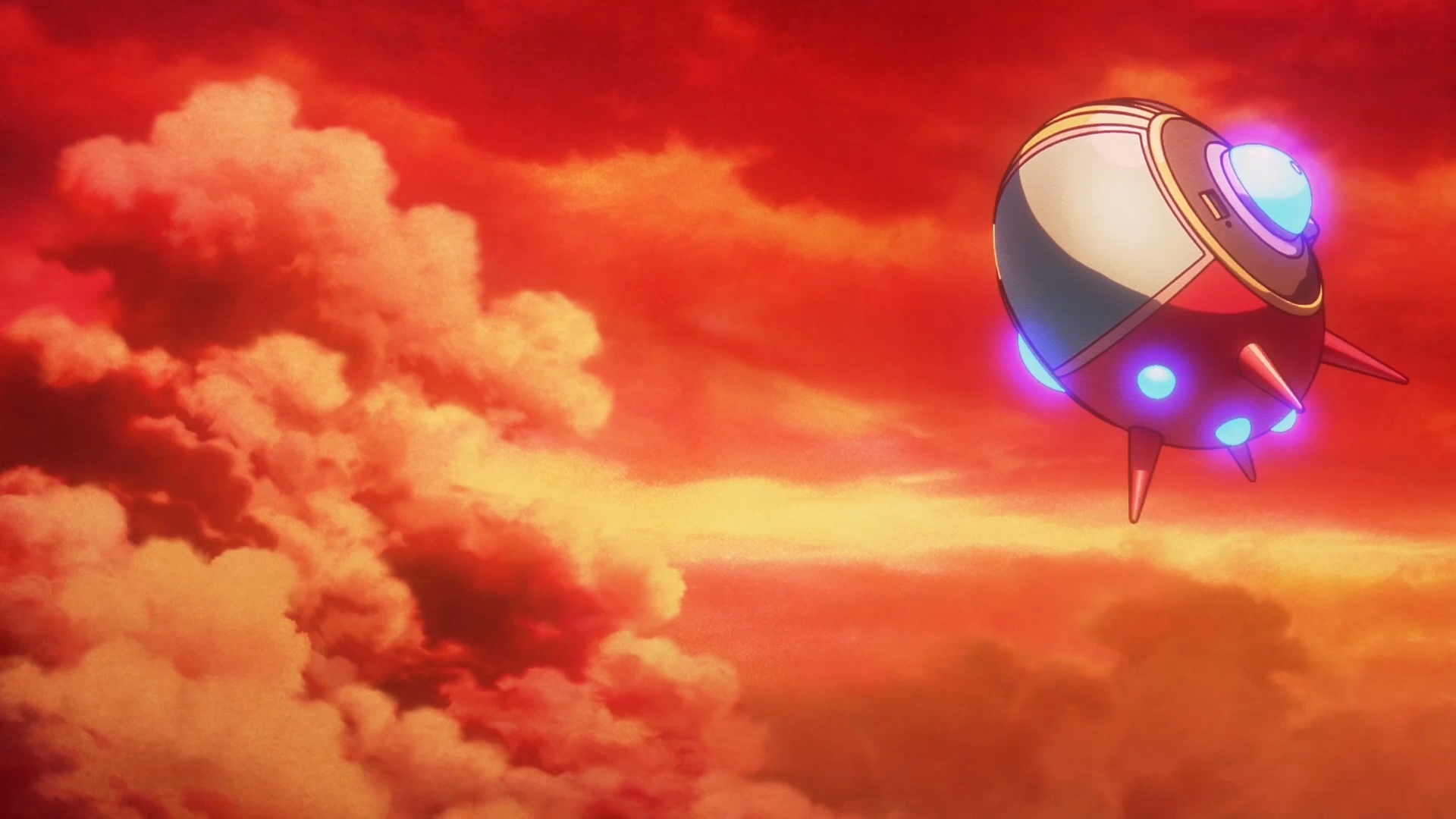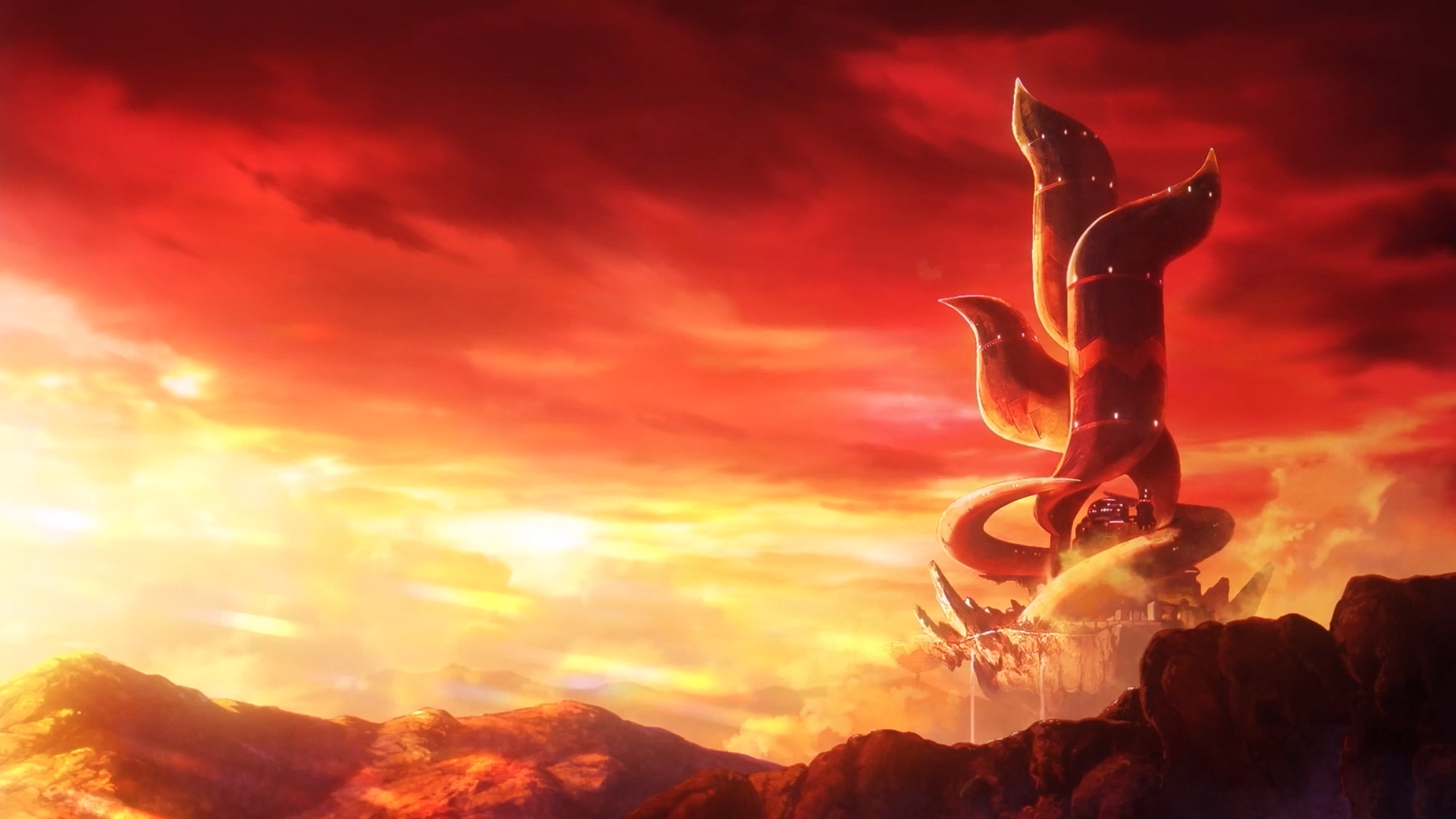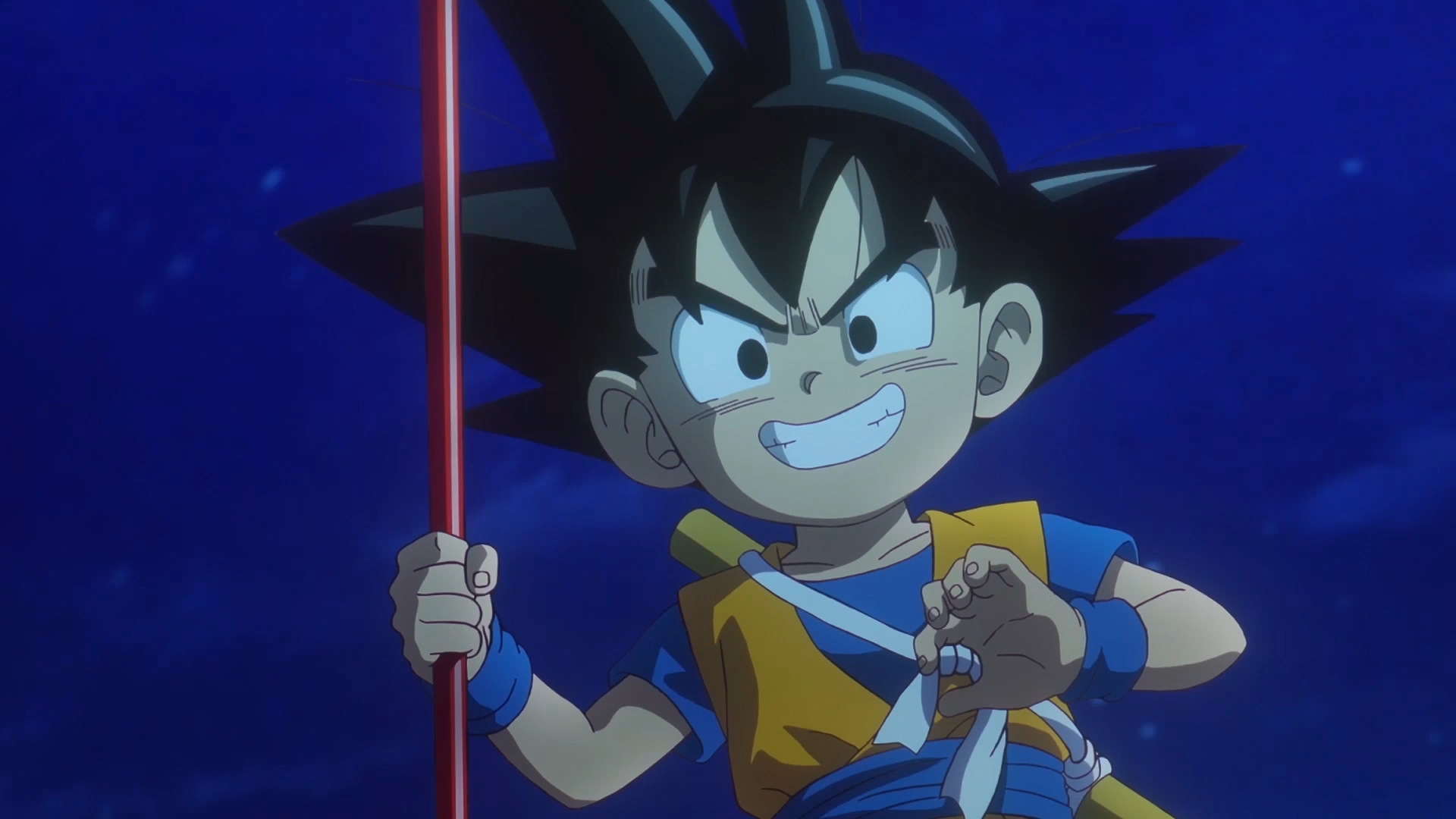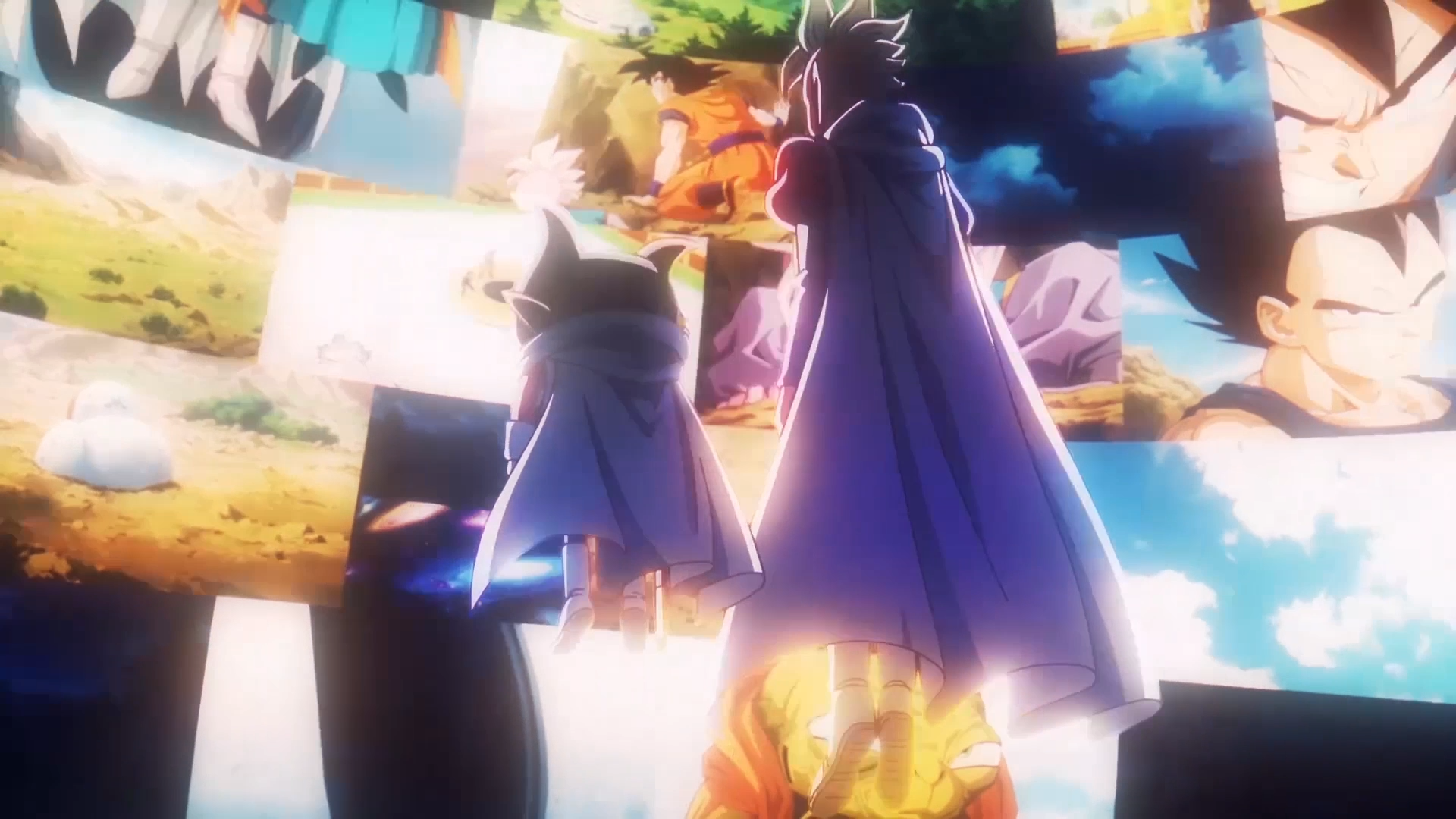 ■About DRAGON BALL
The Dragon Ball phenomenon began in 1984 when Japan's well-known manga from Akira Toriyama premiered in Shueisha's "Weekly Shonen Jump" – becoming a top ranked title throughout its 10 and a half years of publication. Since then, the manga's popularity has continued to grow with an astonishing record of 260 million copies sold worldwide and counting. And with Dragon Ball's ever-increasing popularity, it has expanded beyond manga to include TV animation, movies, games, and merchandising.
Dragon Ball's popularity kept its momentum, and in 2013, the release of its serial movies was restarted for the first time in 17 years to much acclaim. Then in 2015, the author Akira Toriyama started the series "Dragon Ball Super." In 2022, the movie "Dragon Ball Super: SUPER HERO" was released, earning not only the number 1 spot at the Japanese box office in its first weekend, but also number 1 at the worldwide box office in its first week. In the fall of 2024, on the 40th anniversary of Dragon Ball's serialization, a new series will make its global release, making its mark in the history of Dragon Ball, which has continued to evolve to aim for greater heights!
■Title Overview
Title: Dragon Ball DAIMA
Staff: Original work, story, character design by AKIRA TORIYAMA
Other Information:
Dragon Ball Official Site   en.dragon-ball-official.com
Dragon Ball Official Site X  @DB_official_en
©BIRD STUDIO/SHUEISHA, TOEI ANIMATION